Computers installed in your event rooms
Proper computer equipment selection ensures a successful meeting or conference.
Nothing is worse than having your keynote speaker show up with their presentation on some type of memory card that your laptop cannot read. Also, the laptop is the one part of your system that you definitely do not want to cut corners with. CSRA Multimedia will equip your conference room or meeting hall with the latest laptop running an up to date operating system.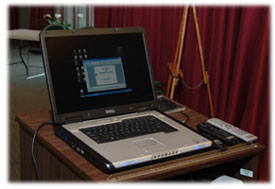 The laptop will be configured and loaded with the latest version of Microsoft Office to ensure the speaker's presentation functions as intended. Additionally, photo editing software will be installed and ready for any last-minute photo tweaking or additions to important presentations.
All conference room laptops will be equipped with CD/DVD burners to enable your speakers and/or meeting participants to archive important files.
CSRA Multimedia will configure all laptop installations with the latest virus and spyware protection programs. Furthermore, our knowledgeable, helpful staff will be happy to train your personnel in the usage and maintenance of all software and hardware they install.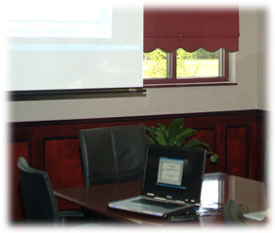 CSRA Multimedia will help you make the proper selections so that your meeting will be remembered for all the right reasons. And don't fret if Apple's latest laptop upgrades result in the guest speaker showing up with his or her "I have to use my computer" approach to life. We are always available to bring out any auxiliary adapters or other equipment that you may find yourself in a last-minute panic about.
Please contact us today to learn about computers for conference rooms to ensure that your meeting space is equipped with the correct laptop and computer support hardware.