A Polycom® conference telephone will let your team hear it all
You want your clients or your company's staff to have the best tools for doing their job. Teleconferences are an integral part of every company's workflow. This is a critical tool, and you need the best.
CSRA Multimedia recommends and installs Polycom® Conference Phones. We mean business, and we know you do too.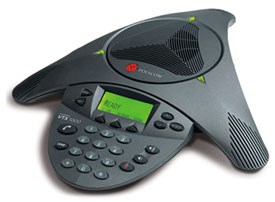 Polycom
®
is the world leader in providing audio and visual conference equipment and the Polycom
®
model VTX 1000 phone is the flagship of their conference telephones. Crystal clear sound for both local and remote attendees is the norm. The phone has a pickup range of over 20 feet thus allowing everyone at the boardroom table to be easily heard. Extension speakers are available that can increase the range to 30 feet.
If you're using VOIP telephones, then the Soundstation
®
7000 is the logical choice for your facility. Crystal-clear digital sound is a given. You can also connect this phone to a Polycom
®
video conferencing system, and allow audio-only participants to be included in your video calls.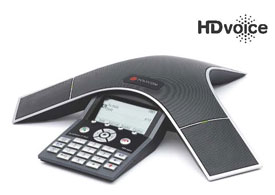 Contact CSRA Multimedia before your next seminar, workshop, boardroom meeting, etc. Let us show you just how good a conference phone sounds compared to what you're presently using.
Please call us soon to discuss upgrading your office or conference rooms to a
Polycom conference telephone
today. You will love the results, and your remote participants will thank you for caring enough to use the best!