Projector installation - our specialty
We provide you with Technical support before, during, and after the installation.
CSRA Multimedia can assist with projection installation from the planning stage until your first presentation (and beyond). Let us evaluate your conference room or auditorium to determine the best approach for installing your projector.
The projector shown below was equipped with wireless hardware manufactured by Avocent. Please go to our wireless AV page to learn more about this equipment.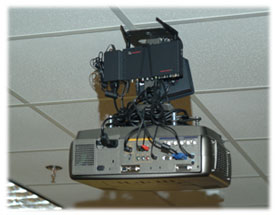 Several things need to be considered: Will you want a front or rear projector system? Do you require a ceiling mount or will it be better to mount a shelf on the wall? What about a retractable mount to hide the projector when not in use?
CSRA Multimedia has over ten years of experience with selecting projectors and mounting hardware.
We have installed projection systems in: home theaters, corporate boardrooms, and convention meeting halls.
We have the know how and experience to ensure your presentations get the attention they deserve, without having the equipment draw attention to itself.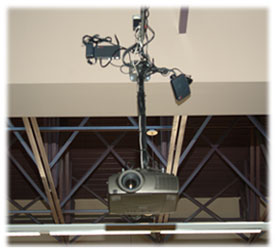 Some projector mounting situations require extensions to lower the projector to the proper height, as shown above. Note also the wireless receivers that were installed in the facility.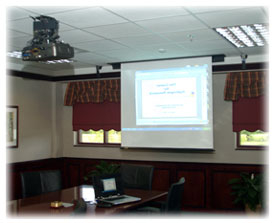 Please contact us soon to discuss your
projection screen installation
needs.