Sound system installation
Your meeting is only as good as your sound system. Bad audio is bad business!
CSRA Multimedia can simplify the process of installing a sound system in your corporate boardroom or conference auditorium. Our trained staff can put their twelve years of AV experience to work on your behalf.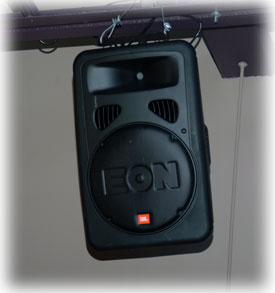 Your sound system should be heard and not seen, or at least it shouldn't draw attention to itself. CSRA Multimedia can ensure that your audience will hear every word of every presentation clearly.
We work with quality name brands, such as Shure, Yamaha, Sony, Sennheiser, JBL, Mackie, etc.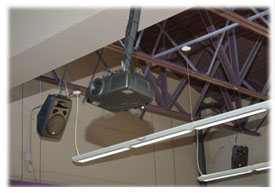 CSRA Multimedia will provide a comprehensive solution to your corporation's or organization's sound system needs. The system will be configured so that the audio signal can be sent to a video or audio recording device. This will ensure that a clear audio signal will be recorded and preserved for future distributors as a web podcast, DVD, or webinar.
Your sound system will be sized appropriately to the room or convention hall. The conference room pictured above was outfitted with a simple computer speaker system. This low-cost solution was perfect for the meetings involving 10-12 people.
Perhaps your meeting space is an auditorium with seating for 150 people, as is the case for the installation pictured above.
Perhaps your meeting space is an auditorium with seating for 150 people, as is the case for the installation in the above photos. We chose a nice JBL installation for this facility, and suspended the speakers from the rooms infrastructure.
Meeting participants are able to enjoy clear, crisp balanced sound from anywhere in the room.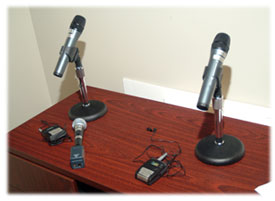 We can outfit you with wireless microphones whether you need: handheld, lavaliere, or you need to use a wired mic temporarily as a wireless.
We are ready to go to work for you.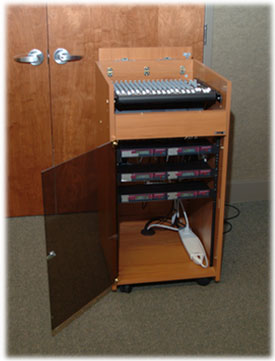 Your sound system can be outfitted with a mixer board to blend the audio from the wireless mic receivers, computer, DVD player, IPod, etc. This equipment can be installed into an attractive cabinet that can be proudly displayed with the finest of conference room furniture. We can also assemble all of the equipment into a rack for those "behind the scenes" installations.
Contact CSRA Multimedia soon about your
sound system installation
needs. Whenever you are in the market to upgrade your existing conference room or meeting hall. We will give you exactly what you need that fits your budget.