CSRA Multimedia can provide you some really cool technology capabilities that you may not have thought possible....
Pictured above is a recent projection system that we installed at
Security Federal Bank
's Operations Center. The wireless unit attached to the projector is WIFI-enabled, and allows up to four PCs or Macs to simultaneously share their desktop. Talk about productive meetings! Use your smart phone or tablet to participate as well!
We have wireless AV gear that allows us to take the camera where it needs to go, without worrying about where the projector or control center is located. We can send a signal through the air up to 200' and allow you to completely cover your event.
This can come in handy for roving camera shots, eliminate running cables to projectors, etc. Call CSRA Multimedia today and learn how to do the impossible at your next event.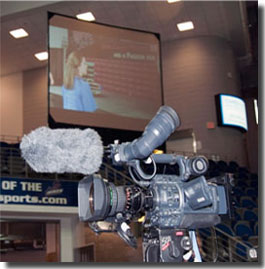 We had an event in which the video camera was equipped with a wireless transmitter so that we could roam about the trade show exhibit floor and broadcast events happening during the day.

The screen shown above is 14' wide, to give you an idea of the distance from the camera's transmitter to the projector's receiver.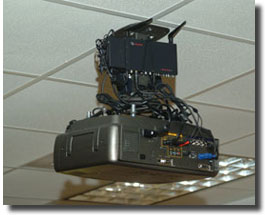 Pictured above is projector with a wireless AV receiver. Transmitters can be mounted up to 200' away.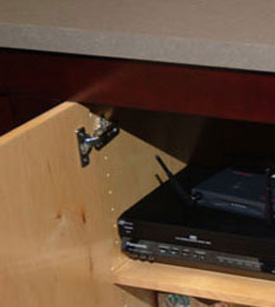 Talk about flexibility in design
—
our wireless AV systems can be hidden in cabinets. How about that for decor-friendly?
Contact CSRA Multimedia soon about your
wireless AV equipment installation
needs. Whenever you are in the market to upgrade your existing conference room or meeting hall. We will give you exactly what you need that fits your budget.