You need computer based training created if any of the following scenarios sound familiar:
1. Do you have routine training tasks that tie up your key people?
2. Are you having to spend key personnel resources to conduct refresher courses for other employees?
3. What about that new piece of equipment on the production line - have you thought about the most effective way to train all three shifts on how to use it?

Maybe you have training courses, but no one has updated them in years, and a lot of the material is only available in a ring binder. This isn't very practical for mass communication to tens or hundreds of employees....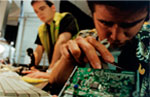 Or maybe you've had to make some modifications to the system after the reseller installed it. Now the manuals are out of date and the online tutorials are not enough. And to add to your challenges, you have a whole shift of new people to get trained...

Whatever the situation in your business or organization, it's just not a good use of key personnel to be tied up training new people.
Let CSRA Multimedia help you develop one or more computer based training courses or modules that can do the work for you 24/7. Best of all, you don't have to worry about the CBT module calling in sick!