Video conferencing - pulling your team together
Business meetings - you gotta have 'em....
Yes, we all need to have our team meet to discuss sales projections, hear from the CEO, undergo HR training updates, etc. This is fairly simple when your team is all under one roof. Now that your company has grown and has multiple locations, it's not easy anymore is it? Then there's the travel costs and downtime that result from having your key people out of pocket.
Ever wish there was a better way? Well there is - it's called video conferencing. Modern video conferencing systems are incredible in terms of capabilities and quality.
Not only will you be saving money, but your staff won't have to recover from jet lag or spend a day going through their email inbox when they return from the trip.
CSRA Multimedia can help you with all of your video conferencing needs. We've installed systems for The Applied Research Center in Aiken, SC and for training organizations at Ft. Gordon. We provided rental video conferencing systems for law firms and chemical consuting companies.
You can either click on the links in the list below or click on the links below in the left sidebar: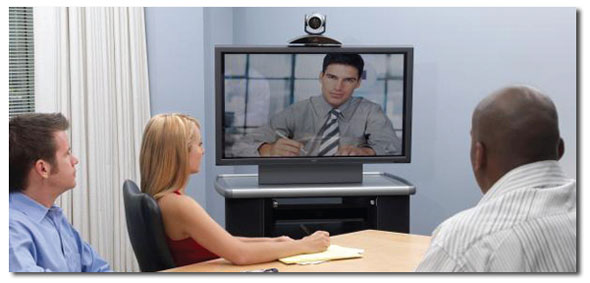 High definition has become common place for home entertainment, at bars, etc., and the video conferencing manufacturers have risen to the challenge of providing HD viewing to business meetings
CSRA Multimedia can assist you with your video conferencing solutions. We are a Polycom reseller for both end point units and infrastructure hardware. We will be happy to show you how affordable it can be to have a video conferencing system in house that will eliminate most of the travel and expense that your organization has to do now.
It is not uncommon to see a 1-2 year payback on you equipment purchase and installation. Given the fact that the shelf life of the equipment is 8-10 years, you will be able to realize a significant savings over the life of the hardware.
Your organization can hold meetings that are extremely focused and efficient. Imagine a meeting in which part of the team is in your corporate office and they're interacting with the sales manager who's dialed into the call via a tablet. You see your IT lead dialed in on another screen, via a laptop in an airport.
Just imagine the possibilities, and just think about how much more productive everyone will be!
Video conferencing - virtual unity. Your team deserves this.
Contact CSRA Multimedia to discuss your organization's video conferencing system needs, and let us determine how you can save money with video conferencing.