Mobile video conferencing
Video conferencing is a great way to bring the remote members of the team together for meetings. The time savings can be huge, and when you couple the travel savings you have a winning combination.
Problem
—
some of your team are road warriors and are on travel during the time of the big video call that you've planned for this week. No problem - they can connect to the video conference call remotely using their laptop or tablet.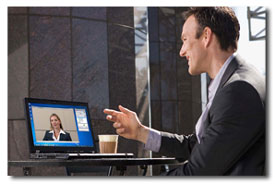 Polycom has long been the leader in developing video conferencing technology and infrastructure to help you conduct business remotely. Today's mobile workforce has necessitated the migration toward including the mobile worker in the loop.
Let CSRA Multimedia help you deign your video conferencing system and infrastructure to incorporate the mobile team members. Image quality and sound are extremely good, thanks in part to significant improvements in webcams for computers and tablets.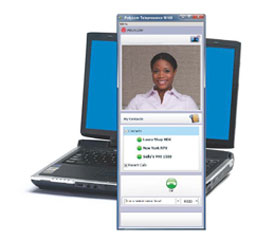 The client software for the PC, M100, is the easiest installation you will ever expeience. Painless! I was up and running in a couple of minutes. You will need 4G wireless capability to use this on the road. You can use a laptop that is connected to a LAN that can give you at least 512 kbs.
The M100 client allows you to communicate with other Polycom video conferencing systems. You can also share your desktop, so any spreadsheets, presentaitons, etc.
The tablet client requires infrastructure be installed and set up ni your company. We can discuss that when we meet.
Contact CSRA Multimedia and let us set you up with mobile video conferencing today!