Video conference installation in your facility
Just think - you could be days away from being able to hold regular video calls in your board room!
If you're ready to take your team meetings to the next level, then it's time to install a video conferencing solution. You will thank yourself over and over for making this business decision. The next business decision you will thank yourself for will be to have CSRA Multimedia do the installation.
CSRA Multimedia has more than five years expereince installing video conference systems.

There are many decisions to make when choosing a video conference system, such as how many locations need to be connected on a call. Other factors, such as equipping your road warriors so that they can attend the video conference from their laptop or tablet will be taken into consideration. Do you need to include audio-only attendees? Or team members working from a tablet?

CSRA Multimedia will cover these items when we discuss you project, plus a whole lot of other criteria that will be needed to ensure you have the best system for your budget.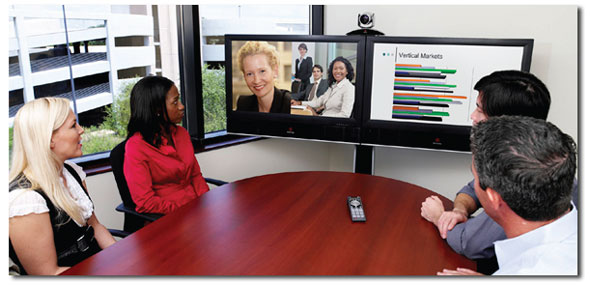 You can feel confident that all units
will be working correctly when we leave, because we won't leave until it is working correctly. We stand behind everything we do, and will always come back out if you need us to help explain the system or to tweak a setting or two after you've used it for a while.
We've installed large systems in conference rooms with 150+ capacity as well as conference rooms with seating for 20. The system installed in the two rooms pictured was actually a mobile video conferencing system, installed at the Center for Hydrogen Research located near The Savannah River Site in Aiken, SC. A portable system was the practical solution in this case, because a third location was a manager's office.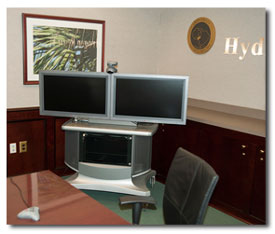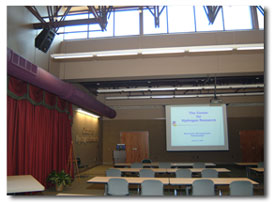 Why should CSRA Multimedia provide the telepresence solution for your remote collaborations?:

• HD Broadcast Quality - Perfect for on-demand project collaboration, distance education, remote patient care and more.
• Enjoyable Meeting Experience - Your team will be able to interact freely and naturally without the conference fatigue associated with internet-based solutions.
• Share Content Easily - Your team members can easily share desktop content or videos, thus encouraging audience participation.
Contact CSRA Multimedia today to discuss purchasing a video conferencing system so that we can assist you in deciding on the appropriate system.