Video conferencing vs. web-based systems
Maybe you've been thinking about video conferencing as a way to cut costs and improve efficiency. Maybe you've been checking into web-based options.
One challenge to any new technology for your company is to get your people to embrace change and to adopt new ways if doing business. Video conferencing will be no different.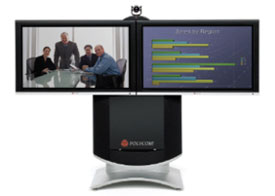 The main thing that will set a Polycom video conferencing system apart from a web-based system is the ability to have wide-angle views of a room full of people as well as closeups. Your video conferencing system allows you to experience "telepresence" - this is the feeling that you were actually in the room with the other meeting participants.
Compare the width of the field of view with the video conference system shown above to the web-based system shown to the right. There is no comparison!
Using a video conferencing system does not result in "conference fatigue" that is common in the case of a web-based system. The superior quality of the HD camera image, combined with the better than CD quality of the audio results in an experience that will be enjoyable to employees, and thus be embraced quicker as the new paradigm of doing business remotely.
Your video conferencing system will have the initial capital outlay for the hardware and the warranty costs - that's it.
There are no ongoing monthly charges, because you're already paying for you Internet connection. Not so with the web-based systems. They have a monthly charge for their service that will continue as long as you utilize their service.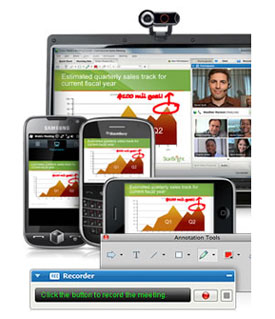 Interactive collaborations on documents with a video conferencing system will require you to have an inexpensive service such as Adobe's Connect service. This costs roughly $50 USD per year. Out side of that, you will have no other out of pocket expenses with the video cnoferncing system.
Contact CSRA Multimedia today and let us show you how much better your experience will be when your team uses a video conference unit vs. web-based unit.