Seminars are a lot of work to put together - just ask any who's been involved in one. The are speakers to arrange, finding a facility, making sure the facility has the AV equipment you need. The list goes on and on.
One part of your production that we can greatly simplify will be the AV equipment. CSRA Multimedia can come in and set up the sound, microphones, projection and camera equipment that will guarantee that your seminar will be a success.
We've helped groups of 20; we've helped groups of 400. The photo below was for a luncheon seminar for a group of 300+ seniors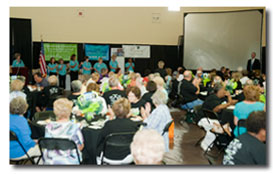 We can work with civic or professional groups. We have assisted engineering organizations with conducting seminars. The photo shown below was taken during one of the breakout sessions during the seminar.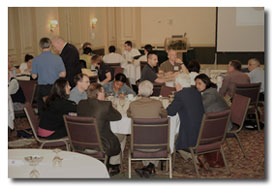 We can also provide video conferencing equipment or a live webcast for your team members that are unable to attend the seminar. Contact CSRA Multimedia to discuss your seminar production needs. You'll be glad you did!