Life is a never-ending learning experience. Nowhere is that more evident than at your job or business.
There is always a new training module or two that your staff needs to go through to ensure that your department is in compliance. Maybe you're putting together some HR training to help your staff deal with the difficult people in their group, or maybe this training will be used to help your sales team be more effective with difficult customers.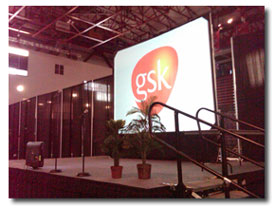 Whatever the occasion or need, you can depend on CSRA Multimedia. We've spent a lot of time and money to learn how to do and to have the right equipment to do a good job.
CSRA Multimedia will be able to take care of all the AV equipment you'll be needing (projectors and/or projection screens, confidence monitors, mics, etc.) out front where the audience will be.
We'll also be able to help you with the behind-the-scenes equipment as well
computers
, DVD players,
switchers
, etc., as can be seen in the photo below. Whatever you need - whether you're needing support for a
live webcast
, or maybe
video conferencing system
rental and support, or perhaps a
conference telephone
, CSRA Multimedia can provide it. We'll either stay on location to support if needed, or we'll be in the think of the action with you - your call.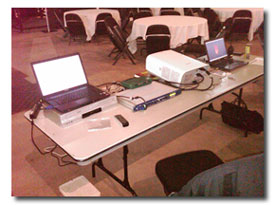 One word describes CSRA Multimedia when it comes to helping you produce your training sessions - transparent. We will make everything work together so well that no one will be thinking about the AV equipment; they'll be focused on what you trying to teach them so they can get back to work.
CSRA Multimedia can help with you with your training sessions. Please contact us today.