Whatever your print project consist of, be it a scrapbook of your father's WWII heroism, or marketing materials for your business or civic organizations, you want it to look professional. You want it to convey your message in an attractive, entertaining manner that respects your branding or fills you with pride years later when you take the book off the shelf.
At CSRA Multimedia, we work with world-class designers to ensure that your project looks great and is a tribute to your loved one or generates calls or email inquiries for your business. The two pages shown below are taken from a scrapbook project made from WWII memorabilia. This turned out to be a nice looking project once the book was leather bound.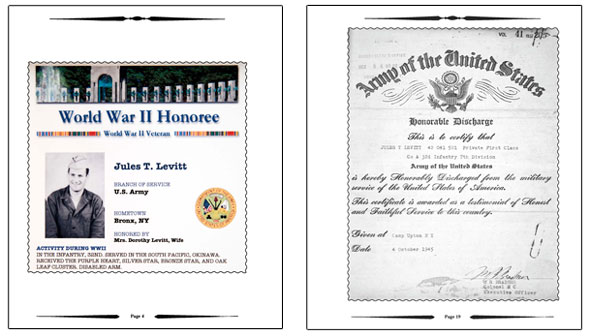 All of the design work is done with a variety of Adobe products (what else?). We use Photoshop and Illustrator to create the elements for the pages. Sometimes the elements will be high-res photos of your material. The actual layout of the piece will be done using Adobe InDesign, a remarkable tool for producing professional quality documents that will be print ready.
Shown below is an example of our team's design work. This is one half of the design for our corporate services brochure. This is a combination of stock photos, shots we took, green screen photography, and Illustrator vector art laid out in InDesign in an attractive,informative package that we are still proud of more than a year after the first copy was printed.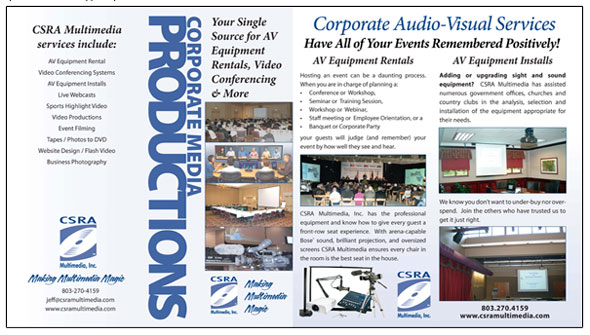 The great thing about modern desktop publishing with InDesign is that your document will not only look great in print, the electronic version can have live links to your web site or your social media sites. This opens up all kinds of possibilities for marketing your business or civic cause.
Contact CSRA Multimedia today and get started on your next desktop publishing project. As the old saying goes "Once begun is half done".