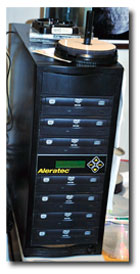 To our right is a photo of the disc duplicator.
We will also be happy to make Give us a call or email us soon to discuss duplicating your DVDs and CDs.
A really nice sound in out office is the click that a disc makes when it falls from the printer into the hopper
—
another disc finished!