Okay - you have your raw video footage (or maybe we shot it for you), and now you're ready to make a DVD to market your processes and techniques. Be patient, you still have some more work to be done before customers are ready to write you checks.
People are always interested in learning more about to better themselves in their profession. Maybe your video will be something that will help them enjoy their hobby more. Perhaps your video involves taking care of pets, gardening, etc. Okay - let's give the people what they want!
As the partial screen shot below indicates, we use DVD Studio Pro to create and produce the DVD of your project. There will be a lot of questions that you will need to answer for us before we can output the master DVD and make the 200 copies you need.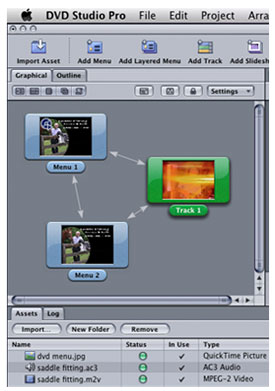 Seems like everything is always more complicated than you think! Some of the items to consider will be how many chapters there are in your video and how you want customers to be able to navigate about the DVD.
The simple approach would be to place chapter markers without a menu, but that would be very user friendly. Bottom line is that we'll need some sort of navigation menu to assist our viewers. Most likely we'll need some graphics or photos from you that follow the theme of your project.
For instance, the saddle fitting project we worked on for a client simply involved a photo and some text on a black background, as can be seen below. The menu buttons for this project were simple text buttons that changed colors for hover and select. Sometimes the menu buttons will be layers in a Photoshop file; this is the preferred way to make a really slick-looking DVD menu. Unfortunately, slick-looking will cost you more, so plan your budget accordingly.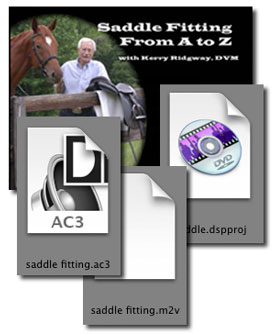 In addition to the graphic elements, we'll need to edit and output your video into the appropriate file formats for your project. This means that we will end up having to create navigation between menus for a bunch of ac3 audio files and m2v video files. Maybe your video was output with 5.1 or 7.1 surround sound. We might add an audio track of two in other languages to your disk. One of our clients was an engineering organization that wanted DVDs containing all of the speakers from multiple conference sessions over a three-day period. This was a very complex project with multiple menus and lots of video and audio files. The final product was received with many thank you's.
As the simple collage above shows, a DVD project can quickly involve a lot of assets to manage. That's okay - leave that to us. Just let us know what you're after, and we'll bring it to life.
Please contact CSRA Multimedia soon to start planning your DVD production project. We may be able to save you some time and money if we can help educate you on what