It's harder to correctly say what you mean in front of the camera or a live audience than most people think. You want to get it all right, and you're focusing oh so hard. You're almost done, but then you stumble over the last sentence. Rats!!
Even if you're doing a voiceover, it's hard to get it all right.
A teleprompter eliminates this problem. You can get you dialog ready, load it into the computer, and you're off to the races. You can set the scrolling speed to allow you to have an even cadence to your delivery. We can set up the teleprompter to project against a sheet of glass between the camera and you. The viewers will really be impressed that you were able to say all that without making a mistake. We won't tell them your secret...
A screen shot of the teleprompter software is shown to the right.
It's a very simple intuitive interface. This will really make things a lot easier for you.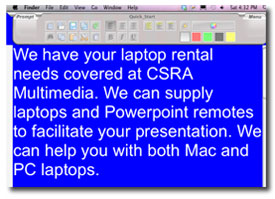 Contact CSRA Multimedia to learn more about using a teleprompter a your event..