Compressor and audio mixer rentals
The importance of having a quality audio mixer and compressor at your event cannot be stressed too much
Even if you are only using one mic, a mixer allows you to boost certain audio frequencies while reducing others. Also having a compressor will allow you to reduce the audio level changes from your presenter or musicians. Compression reduces the range of loud and soft audio to allow you to enhance your audience's listening experience.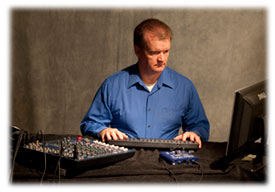 CSRA Multimedia offer a wide range of mixers and compressors for rent. In particular, we have had great success with Yamaha mixers. We also carry Mackie mixers.
Most events will require 6-10 audio inputs to be mixed and sent to the sound system. Certain cases will require audio monitors, headphones, etc. to be fed the audio signal.

Contact us at CSRA Multimedia so that we can discuss all of your questions about compressor or mixer rentals.