Business Affiliates
Networking to develop a lot business relationships is critical to your business success
"Though one may be overpowered, two can defend themselves. A cord of three strands is not quickly broken. ." Ecclesiastes 4:12.
That Bible verse was written by King Solomon over 3,000 years ago. That wisdom is particularly true in business. You must surround yourself with a strong network of business associates and be involved with business networking groups to be successful. No one can do it alone.
We have found that to be true in our case as well. CSRA Multimedia incorporated in 2005, and we immediately found several groups to plug into in the Aiken, SC and Augusta, GA area. Each of these organizations deserves its own page of information on our site, because each of them have brought unique opportunities to our business. We have been blessed to learn about each of them and to get involved.
NETWORKING - The Business
Secret You'll Want to Give Away -
Over and Over!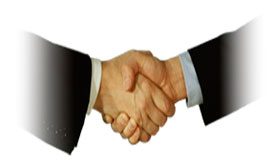 We have included brief summaries of our experiences in the page links located in the left sidebar. You can also learn about these organizations by clicking on the links below:
- Business Network International (BNI)
- Aiken Chamber of Commerce
- Augusta Chamber of Commerce
- Small Business Development Center
- SCORE
One thing that we've learned over the years is that wisdom is learning from other's mistakes. We learned quickly that networking and developing good business relationships would enable us to learn from other's mistakes. So.... we always go to every networking event we possibly can and have our business cards ready to hand out.

In fact, the business cards are always in the back pocket or wallet, just in case...