Need to rent microphones for your event?
What kind? Cardiod? Shotgun? Handheld? A combo of all? Did the technical mumbo jumbo above cause your eyes to glaze over? Don't know what you don't know
Let CSRA Multimedia take the anxiety out of mic rental. Let our 14 years of event production experience make your conference meeting, reunion, etc. a memorable success.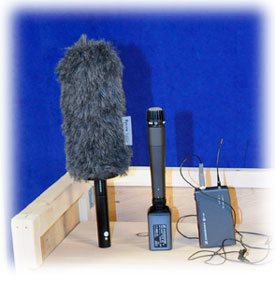 Your audience will remember bad audio long after the event is over. Renting your microphones from CSRA Multimedia will ensure that the event will be fondly remembered. CSRA Multimedia can ensure that audio quality and tonality are optimized so that feedback, distortion, etc. will never be an issue when you entrust your event in CSRA Multimedia.
CSRA Multimedia uses top name state of the art equipment. Names such as Sennheiser, Shure, and Electrovoice are common sights in our inventory and gear cases. We rely on Shure SM58 handheld mics. We can set these mics up as wired or wireless, to suit your needs.

Our premier offering for lavalier mic rental is a Sennheiser unit. We use a cardiod mic to eliminate or greatly reduces room interference and feedback.
Need to capture a large group of speakers and/or the audience sound? Let CSRA Multimedia equip your event with a Sennheiser shotgun mic. The 'shotgun' design has an elongated sound pickup region to capture a wide sound pattern. This mic can be used as a wired or wireless mic.
Whether you need to rent one mic or 51 mics, call or email CSRA Multimedia.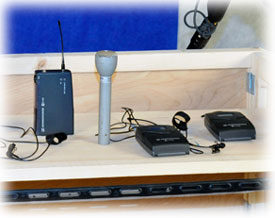 Call us today or email CSRA Multimedia to discuss your microphone rental needs for all of your upcoming events.