Need to rent a Polycom® conference telephone?
Ever participated in a conference call where individuals were using their office telephone's speakerphone feature to allow 10-20 people to participate? Remember how frustrating this was for everyone on both ends of the call? Audio dropouts incessant request to repeat the last question, response, etc.?
Proper tools are essential to achieve professional results in all areas of business. Your choice of conference telephone is no less important. CSRA Multimedia uses a Polycom® Conference telephone in their equipment.
Polycom® is a world leader in providing audio and visual conference equipment and their VTX 1000 phone is the flagship of conference telephones. Crystal clear sound for both local and remote attendees is the norm. With a pickup range of over 20' the VTX 1000 allows everyone at the boardroom table to be easily heard. Extension speakers are available that can increase the range to 30'.
CSRA Multimedia can incorporate the audio from the Polycom® VTX 1000 into the audio mixer to allow all meeting events to be captured for post production to audio podcasts, DVD, webinar, live webcasts, etc.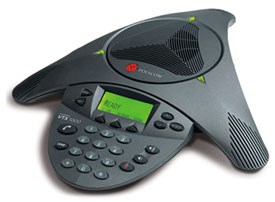 Notice the photo of the VTX 1000 above? The screen says "READY". That describes CSRA Multimedia exactly - we're READY to provide you with a state of the art conferencing phone for your next big meeting!
Contact CSRA Multimedia to learn about Polycom conference telephone rental for a quote or to ask questions before your next board meeting, conference, or other major event.
Let us show you just how good a conference phone sounds compared to what you're presently using.