Projector rental for your event
Need to rent a projector?
CSRA Multimedia personnel have over 14 years experience in planning and setting up professional meetings. We will help you select the proper size projector. We will need to know the following:
- Number of persons attending
- Size of room or venue
- front or rear projection needs
- Lighting conditions required during meetings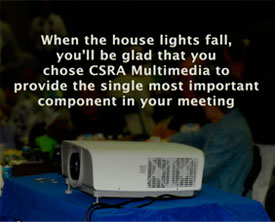 A typical meeting with 10-25 people will be served will with a 2,500 lumens projector. our 5000 lumens models will handle the job for a group of up to 4,000. We'll also be able to providefor even larger groups and venues - just let us know the details and we'll handle the rest.
CSRA Multimedia will ensure that your meeting materials are adequately seen. We can provide projectors with 6,000 lumens, 7,000 lumens, 10,000 lumens, etc. -- whatever it takes to make your meeting a success.
We have included a photo gallery below to highlight some of our projector rental projects. Please click on the photo below to view the gallery: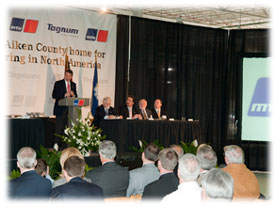 Please contact CSRA Multimedia today if you have an upcoming event that will require renting a multimedia projector. Your peace of mind is our #1 priority!