Sound system rentals? We can do it!
People remember the audio quality of your presentation much better than the video quality. This is particularly true if the quality is poor. How many presentations or seminars have you attended that had poor sound quality, feedback problems, etc.? We've all been there. It would be a shame to have the audience paying more attention to the lack of audio quality than to the message you are trying to communicate.
Renting a sound system from CSRA Multimedia will guarantee that your message will be heard loud and clear. We carry Bose® L1 professional quality sound. equipment. This system sounds as good as it looks. It is difficult to believe the audio quality and volume that come from the Bose L1 system.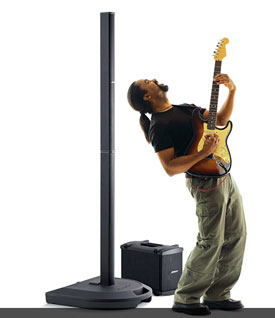 Our first experience with the Bose® L1 in use at a Business After Hours event hosted by the Greater Aiken Chamber of Commerce. The event took place at the USCA baseball field. They had a musician playing live music, and the quality and volume was incredible, considering the artist was playing in the middle of an open field.
It is truly amazing how even the sound level is, whether you are 10 feet or 110 feet away from the system. Pictured below is a shot of an engineering conference that we provided the AV equipment for. The black object against the back wall is our Bose® L1 system. The audience was able to focus on what was being presented and rarely noticed that a sound system was in the room (which is the way it should be).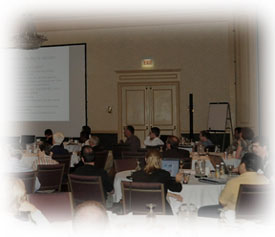 CSRA Multimedia will provide the necessary number of audio mixer channels and any connectors to ensure that we can connect your iPod, laptops, DVD player, VCRs, mics, musical instruments
—
you name it will be mixed together and delivered with breathtaking quality.
You will never hear, "We can't hear," from the back of the room . You are more likely to have someone say "turn it down please!". You can see the Bose® L1 in action back stage at an event.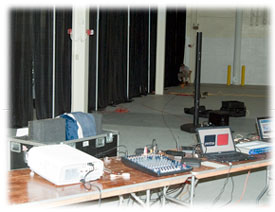 Question: sound system rental? Answer: CSRA Multimedia and Bose
®
L1. We can also provide smaller sound systems as well to suit your needs.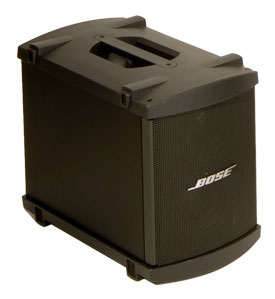 Your sound system should be heard and not seen, or at least it shouldn't draw attention to itself. CSRA Multimedia can ensure that your audience will hear every word of every presentation clearly.
We also work with quality name brands, such as Shure, Yamaha, Sony, Sennheiser, JBL, Mackie, etc.
We can outfit you with wireless microphones whether you need: handheld, lavaliere, or maybe you need to use a wired mic temporarily as a wireless.
Contact CSRA Multimedia soon about your
sound system rental
needs. We are ready to go to work for you.