Converting Photos To CD and DVD
Photos - taming the boxes and boxes of old shots....
We've all got them - boxes of photos from the days of Kodak Instamatics, Polaroid Swingers, fully automatic 35mm cameras, etc. Some of us were more serious hobbyists and had a Leica or other high-end cameras with a suite of lenses. We all still suffer from a common problem - what to do with the mountain of photos that we'vice accumulated. Maybe we were good and faithful about placing them in photo albums or scrapbooks; maybe old shoe boxes were your storage method of choice. Whatever your method, you still have a big choice to make - what to do with all those old shots?
Besides the obvious need to convert the images over, you need a good way to store them on the computer once scanned. Not to mention a way to be able to give all your siblings a copy of the shots from Grandma's photo albums....
We give you a DVD video of your photos set to music, with chapter markers appropriately placed so that you can travel through the collection faster if need be.
Even better than the movie of your photos, we also give you a photo scrapbook on CD that you can pop into your PC or Mac computer and flip through the photos just as you used to with your photo albums. It even makes a page turning sound as you click on the next photo! The cool thing about the scrapbook is that you can right-click on a photo and select the "print" option to print out your personal favorites. Anyone with a nice inkjet printer and quality paper can whip out a handful of snapshots to rival what you used to spend many dollars at the photo lab to get.
Even better - you can add music, or short narratives that will allow every picture to tell its own story. Now that's a cool gift idea.....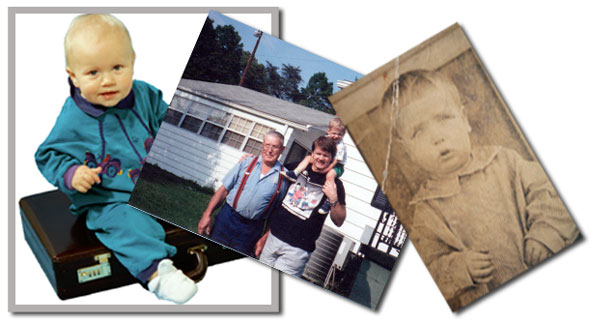 Let CSRA Multimedia help you with converting your old photos into a digital album and scrapbook. We take the photos you have and scan them at high resolution so that a nice 5X7 or 8X10 print can be made. Do you have larger prints that were framed? No problem - we have a really nice Nikon D-700 digital SLR that we can use to reproduce and preserve your larger prints.
Best of all, it is very easy to make everyone a copy of this two disk set. No more arguments over who gets which picture of Mom or Dad.
Contact CSRA Multimedia today and let us
convert albums and boxes of photos
into a neat digital collection of digital keepsakes and heirlooms for now and the future.